For 2016, Cadillac releases the 2016 CTS-V the high performance spec of Cadillac's four door luxury sedan. When you think of a luxury sedan, you think heavy, smooth riding, and meant to go fast…on a straight line; well that was the case with the original Cadillac CTS, but this time it's different.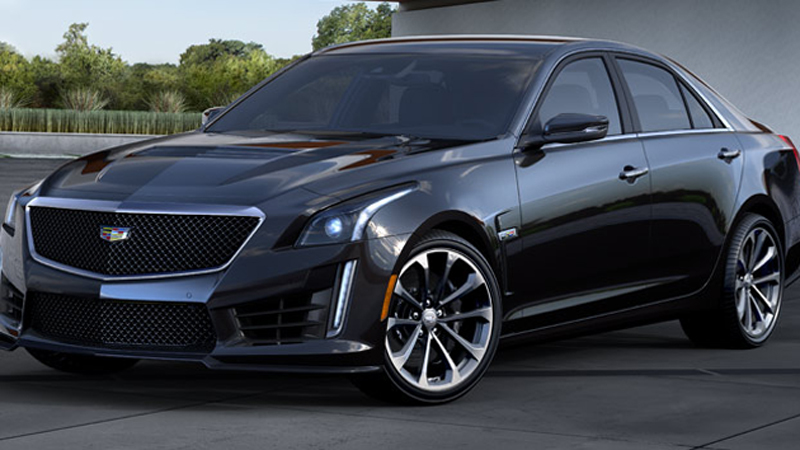 The 2016 CTS-V Floats Like a Dream But Brings the Power
The 2016 CTS-V is a fine example of raw power and luxury. At 640 horsepower, this is the most powerful Caddy to ever roll off the production line. On the outside it might resemble your typical Cadillac CTS with a few changes to the aero parts; what separates it from the others is what's under the hood. Powering the CTS-V is the very same engine on the Chevy Corvette Stingray Z06; a 640hp 6.4-liter Chevrolet LT4 V8 force inducted by an Eaton supercharger that makes the sweetest of noises.All that power is sent to the rear wheels via an eight-speed auto with sport manual shift programs for shifting via the paddles on the wheel.
The interior sports a suede dashboard, along with leather, and a mix of carbon Kevlar. On the center is Cadillac's Cue infotainment system. The system supports Apple CarPlay but no support for Android Auto yet. There's also an integrated Qi wireless charging pad to charge Qi-equipped. As a luxury car it even has 4G LTE connection in the cabin. The ride quality is comfortable, not limo comfy but this is owing to the sports suspension which is tuned to give the driverroad feedback. Equipped with a stiffer body, it certainly is very nimble for a heavy car, Cadillac even did their best to shave off as much weight as possible including a carbon hood among other places of the CTS-V.
Not only is the CTS-V Cadillac's most powerful luxury sedan ever made, it is also a nimble luxury sedan. With a tighter body and sensitive magnetic ride suspension, it can deliver a comfortable drive when in the city and very good feedback delivery when on track.
Let's face it, a 604 horsepower supercharged V8 is not in the slightest sense fuel efficient. Even when driving like a normal person even though you're trying really hard, it can squeeze out a measly 14mpg of fuel economy in city, and 21 on highway. This car is meant to be unleashed on the racetrack where every drop of fuel is paid off with a devilish grin on your face as you scream on the straights at 200mph.
The
The 2016 CTS-V has a lot going for it; luxury car, check. Sports car, check. While not very practical in terms of the costs of owning it and using it as a daily driver, it can be the comfiest ride to the local track and unleash all the power there without having to tow your track car.